TQC have designed and produced a number of assembly jigs and intelligent fixtures for several applications across a number of industry sectors including the automotive, automotive plastics, welding and aerospace industries.
What are Intelligent Fixtures?
Intelligent fixtures has been a recent growth area within manufacturing. An intelligent fixture combines the mechanical location fixture with the intelligence of an automated PLC controlled system and the flexibility and dexterity of a human to provide a safe and quality assured, poka-yoke method for assembly.
Production logic has changed from batch production using dedicated technology to Just-in-Time (JIT) or sequenced production, with increased range of options or variants. This change means that suppliers need to produce the increased number of variations of the part as required without producing stock. Lower volumes of each part are required due to the increased number of part variations. This means that full automation is not normally justifiable, so production is best suited to using the flexibility of a human operator with the 100% quality assurance of correct assembly provided by the intelligent fixturing.
Intelligent fixtures and fixturing provides the answer by allowing the part specific data to be input into the fixture (eg. barcode scanning) and then the operator can have a sequence of build or assembly displayed. This assembly or production sequence would be monitored and the release of the finished product would only be possible if the correct parts have been assembled.
Intelligent Fixtures and Assembly Jigs from
TQC
The abilities of our in-house jig and tool design facilities enable simple jigs and more complex fixtures to be designed to suit the customers requirements. Laser cut tooling is commonly used as this allows complex shapes to be cut to match customer design information.
Jigs and fixtures along with specific tooling form a critical element of machinery designed and supplied by TQC. The examples of checking jigs and assembly fixtures shown below vary from a large fixture for measuring and checking a casting for the aerospace industry to a small cost effective checking jig to hold an automotive plastic bumper during the manual polishing process.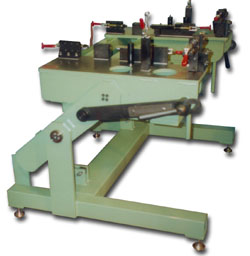 TQC jigs and assembly fixtures can aid manual operations by aligning parts to reference datums, securing parts for additional functions to be easily carried out or allowing easy access to opposite faces. Many jigs and fixtures supplied incorporate Poka Yoke techniques, an important requirement especially in the automotive industry for ensuring that it is not possible to produce incorrect parts.
A large number of laser cut profile based fixtures supplied have been for the automotive plastics industries for the handling of plastic bumper during the painting process. As part of the supply, TQC can develop mounting frames for multiple fixtures so that a number of mouldings can be transferred down the paint line. Laser cut fixtures can be CMM checked to ensure the fixture matches the CAD data. To compliment the supply of these fixtures, checking or repair fixtures can also be supplied. Checking and repair fixtures are often used in manufacturing production volumes of fixtures.
Areas of application of some

TQC

produced jigs and fixtures:
Automotive castings
Automotive plastic bumpers & grills
Aircraft castings
Automotive welding fixtures
Aircraft structures
Automotive interior trim
Typical abilities of

TQC

intelligent fixtures and fixturing:
Poka Yoke Part Sensing
Intelligent screwdrivers – torque, angle, screw count, fastener position monitoring etc
Intelligent drilling
Correct assembly checking
Peg / Clip Insertion detection
Length detection
Intelligent visual monitoring – camera / colour sensing
Electrical checks
Automatic part locking on failure
Part Marking or pass stamping
TQC also designs and manufactures the technology that sits either side of intelligent fixtures, jigs and fully automatic assembly and test equipment. It is this experience across the range of technology that allows the correct solution to be provided for the customer for their production requirements.