TQC has supplied automatic assembly line and assembly machine technology across a range of industries sectors for over 35 years. TQC are specialists in the design and manufacture of bespoke production line equipment, assembly stations and semi- or fully-automated production lines.
An automatic assembly machine can incorporate automatic testing, robot automation and mechanical handling. TQC have supplied elements of these into solutions within many industries.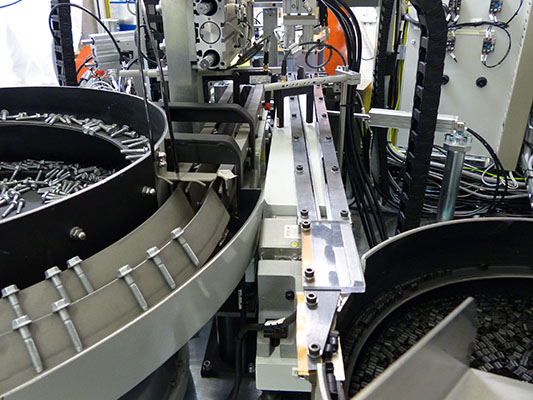 Assembly machines can incorporate many different tasks as there are many different products across many different industries. An assembly may just be 2 or 3 parts that are simply clicked together or it could have several parts that need to be glued or greased prior to assembly. TQC have looked at most assembly examples over the year so can use this experience to help with new projects. Discussion with TQC prior to final design sign off can be advantageous as we can advise how parts can be designed for automation. For example, a simple feature can be added to allow part orientation to be simplified and so any automated handling made more straightforward.
TQC supply the correct automatic machine or assembly line system to meet the specification. The industrial automation machinery we supply can be a single assembly bench or a number of assembly machines to suit a cell layout or pallet transfer system. All the assembly systems that we provide incorporate modular construction and technology modules. These modular systems allow the customer to expand their automation machinery as the specification changes.
TQC has extensive experience from a machine or assembly line for production of small components for the medical and pharmaceutical industries to larger automation systems to handle metal castings for the automotive industry. Each TQC automatic assembly line machine solution is designed to provide the best method for reducing labour costs, increasing output and eliminating manual handling concerns.