Automated production lines are essentially advanced systems designed to streamline and optimize the manufacturing process. Generally, they utilize a combination of machinery, robotics, computer systems, and control software to automate various stages of production, reducing human intervention and increasing efficiency.
Generally, an automated assembly or production line generally incorporates a number of processes that are linked via a transportation method such as robotics or conveyors.
A requirement may start by needing an assembly bench and an operator for low volume production. Consequently, as production volumes increase more labour or more automation (or a combination of both) is necessary. Adding further product variants increases the complexity of the manufacturing process and introduces different parts and assemblies meaning quality control and checks become more critical. Introducing an automated assembly or production line allows any assembly and testing requirements to be linked together to ensure the output is the correct end product.
Benefits of using Automated Production Lines
The benefits of automated production lines include increased productivity, improved product quality, reduced labour costs, faster production, and additionally, the ability to adapt to changing production requirements.
What forms Automated Production Lines?
At TQC we have provided clients with many different elements integrated into automated production lines.
Automated production lines can include any of the following –
Part feeding from bulk (bowl feeders, magazines, trays)
Joining processes (screws, welding, gluing)
Automated manufacture (punching, bending)
Leak testing (air decay, helium tracer gas)
Pressure testing
Electrical testing (resistance, continuity)
Automatic pick and place
Product transfer (conveyor / robot arm)
Part marking (percussion / laser / inkjet)
Automated reject
Barcode reading
Data acquisition
Vision inspection
Part or feature gauging
ISA-95 Pyramid
TQC integrate at all levels of the ISA-95 pyramid, also known as ANSI/ISA-95 or ISA-95, is a widely recognized standard developed by the International Society of Automation (ISA) for enterprise and control systems integration. It provides a framework for integrating business systems and manufacturing operations by defining models and terminology to facilitate communication and data exchange between different levels of an industrial automation hierarch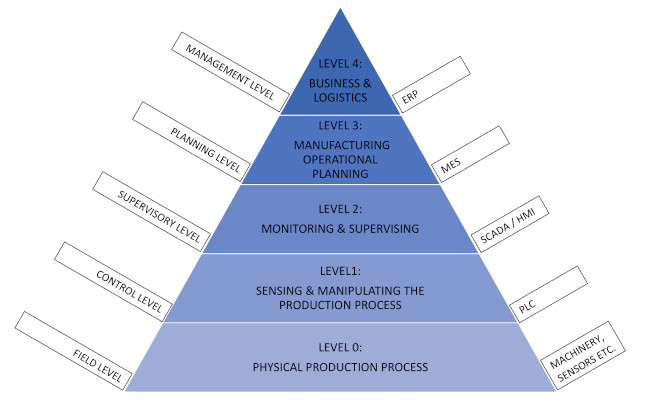 How we can help you.
In conclusion, throughout this website there are many examples of how we have helped clients solve automation problems. Supplying automated production lines as a full turnkey solution may be the final ambition. TQC is happy to help in the early stages when the question could be as simple as "How do I put this together correctly?"
Furthermore, our experience and flexibility have allowed us to design and manufacture special purpose turnkey semi-automatic and fully automatic lines for more than 25 years to many happy customers. This ongoing experience helps us work with you to provide solutions and meet your requirements.
TQC look forward to discussing your next automation project so please get in touch via the Make an Enquiry button at the top of this page.