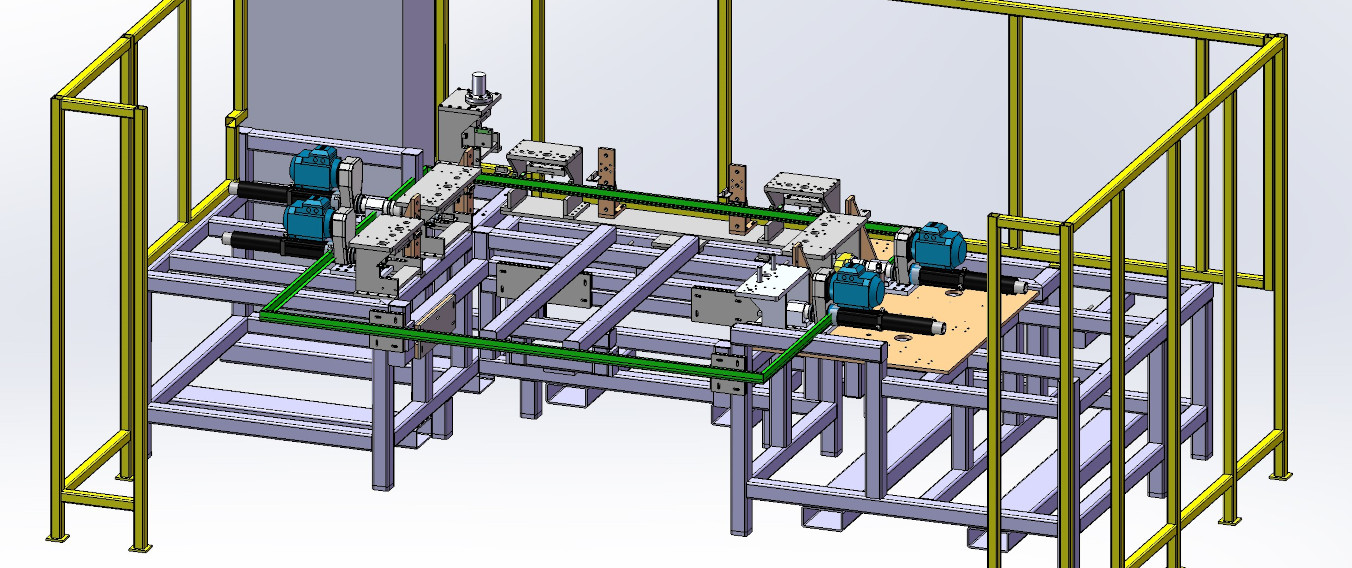 Automatic Drilling and Punching Machine
Client: Leading Industrial Door Manufacturing Supplier
Part: Metal Fabrication with variable sizes
Machine supplied: Automatic drilling and punching solution
Overview: This system was designed and manufactured in order to give the customer the ability to perform automatic drilling and punching of features into a metal fabrication. The solution included easy adjustment to allow several sizes of fabrication to be handled.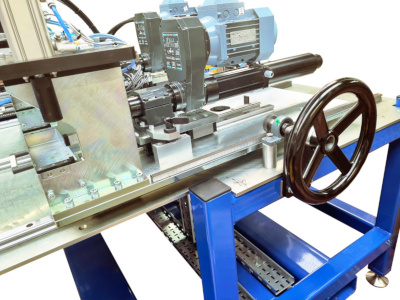 Operators load a metal fabrication into this automatic drilling and punching system, the part is then automatically clamped into the location tooling and the drilling and punching operations are performed automatically. On completion of the cycle, operators unloaded the finished part.
The drilling is performed by single and twin spindle units positioned on either side of the system, these are mounted to drill holes horizontally. The punching is achieved using a hydraulic power pack and associated cylinders to punch through a number of holes. Swarf collection drawers are included under all machining operations to allow easy emptying and swarf removal from the machine. Drill bit and punch tool changeover is made straightforward by the tooling design and the inclusion of slides to allow the drills to be retracted for access.
The customer required this automatic drilling and punching solution to handle a number of variants. This was made possible using a handwheel on the RHS of the system to change the distance between the 2 sides of the machine. Automatic adjustment of the rear hole positions is included within this operation.
The system was PLC controlled and included broken tool sensing to ensure correct operation. Perimeter guarding was supplied with front access protected by safety mats.
Automatic Drilling & Punching – Key features:
Heavy duty framework
Electro-pneumatic drilling units, 2 single spindle, 2 twin spindle
Hydraulic punching
Pneumatic part clamping
Adjustable for variant pars
Easy change tooling
Swarf collection drawers
PLC Control
Perimeter guarding with safety mat access
To view a printer friendly format please click below
Automatic Drilling and Punching Machine
If you have an application that could benefit from TQC's expertise in automation and automated manufacturing, please contact us by email or phone via the contact details