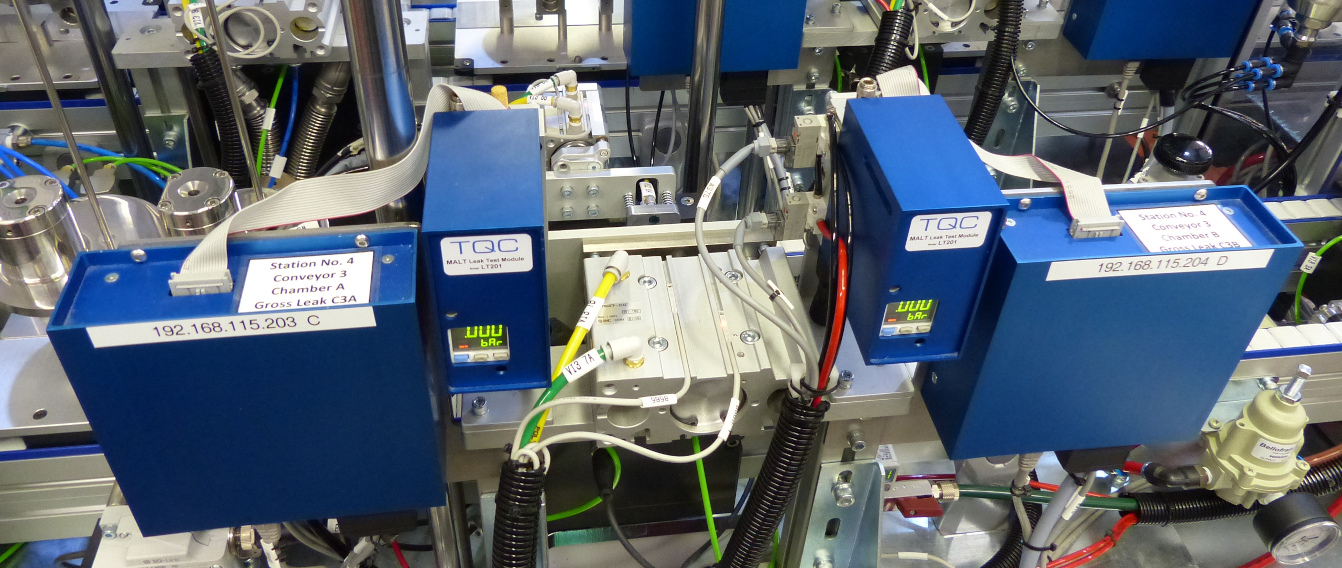 Tracheal Tube Leak Testing
Machine supplied: Automatic Tracheal tube leak testing system using helium tracer gas.
Client: Global leader in medical device technology, services, and solutions
Part: Tracheal Tubes of various sizes
Overview: TQC designed and manufactured this system in order to give the customer the ability to automatically helium leak test parts. The test ensures correctly assembled and operational tracheal tubes are delivered for medical use. The system handles up to 800 parts per hour.
The system incorporates a recirculating pallet track to transfer tracheal tubes between stations. The complex pallet tooling was manufactured from polished stainless steel and designed to include part location and the required pneumatic porting for the automated testing. To meet the production volume requirements, 2 parts are included on each pallet and are tested simultaneously.
Sequence of Operation – Tracheal Tube Helium Leak Testing
Operators manually load Tracheal tubes at the load station. The next station is an automated part check and alignment station including a vision check for to ensure the presence of printing. Following this station, to allow sufficient part buffer (> 4 minutes allow glue curing on the assembly to be complete) and to feed 2 test stations, the conveyor system splits into two lanes.
The tracheal tube leak testing is carried out over 2 stations. Initially an air decay leak test is performed to test for gross leaks. Four OEM MALT LT201 valve modules and controllers are included and used as the leak testing instruments. The valve modules are mounted close to the fixture tooling to keep the test volume as small as possible. An overpressure and a vacuum test are performed on the tracheal tubes. Any air decay leak test fails bypass the next leak test station.
Fine leak test is carried out at the next position. This test is a helium leak test using mass spectrometers. Chambers are lowered over the test pieces and helium injected into the tracheal tubes. The helium level within the chamber is monitored and a pass or fail is indicated dependent on the level.
The final station is an automatic unload, good parts are unloaded from the pallet tooling, reoriented, and placed into a box. Failed parts are automatically placed into a reject bin. Empty pallets transfer to the manual load station.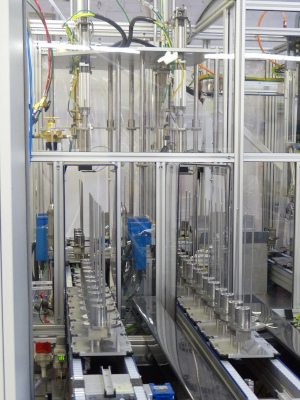 TQC supplied this medical device sector solution complete with GAMP 5 standard and included fully compliant documentation. The system includes full guarding with a key exchange system to ensure safe access when required.
Proof of Principal / Proof of Concept
Finally, this automatic tracheal tube leak testing solution was the result of a successfully proof of principle study. Before a test solution could be defined the leak limit needed exploring for these parts, this then enables pass and fail criteria to be set. TQC carried out a study across a number of tracheal tubes and developed the test parameters and set the limits for what makes a good part.To view a printer friendly format please click below
To view a printer friendly format please click below
Contact Us
If you have a medical application that could benefit from TQC's expertise in leak testing, please contact us by email or phone via the contact details.