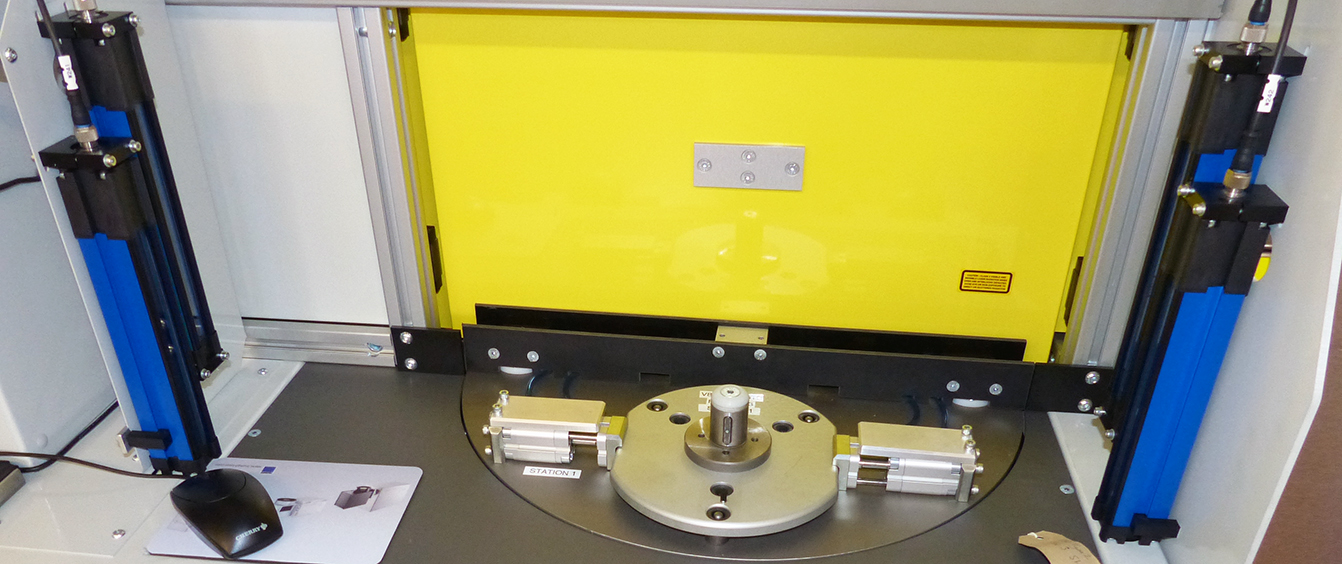 Automated laser marking and verification system for automotive parts
Client: Global Heavy Automotive Parts Supplier
Part: Heavy Automotive Transmission Circular Part
Machine supplied: Laser marking and verification system
Overview: This automated laser mark and assembly system was designed and manufactured in order to give the customer the ability to laser mark information onto their products within their production environment. TQC developed this system alongside the client to allow them to meet their customer's requirements of accurate, readable data being marked onto the product.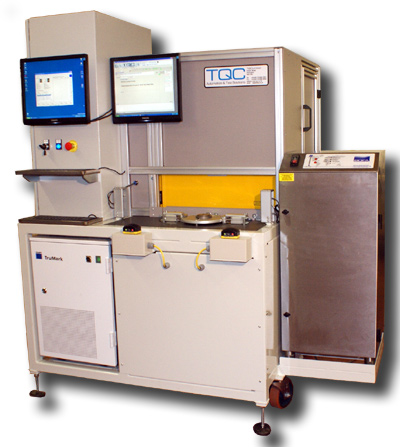 Laser Marking System Key features:
Manual part load and unload
2-hand start for operator safety
Automatic laser mark and vision verification
2-position indexing table for simultaneous load/unload and laser mark/verification
Interchangeable tooling to accomodate different part variants
Laser mark of alphanumeric and 2D Barcode Datamatrix information, including accurate timing marks
Component rotary axis with encoder feedback
Marking around the circumference of the part including the ability to mark varying diameters
Integrated extraction system
PC control Operator screen, keyboard and mouse
Full laser standard guarding including removable panels for access and a safety viewing window
Mounted on wheels to allow easy integration into machine cells, pallet transfer systems and production lines as required
TQC have designed a solution for the automatic Laser Marking and Verification of parts. Marking and verification is a common requirement with many industries to ensure traceability, this specific example handled circular automotive parts, laser mark part number and technical information including a 2D barcode matrix (also known as a Datamatrix or DMX code) onto external circumferential faces.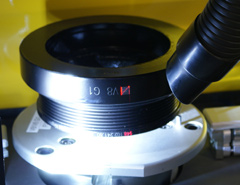 A benefit of this solution is that it has the ability to adjust the focal length of the laser marker automatically through the laser marking process. Parts are handled via 2 stations which allow the simultaneous operations of loading/unloading operations to be carried out during the automatic laser marking/verification process.
The location tooling aligns and datums the part and a mechanism engages with the tooling at the marking station to accurately lift and rotate the part to allow the laser mark to be applied. The marking is carried out in segments with the system interfacing the rotary position of the part with the laser output. The vision verification is carried out at an offset position after the laser marking and uses encoder information of the rotary position interfaced with a line scan camera to form a picture of the laser marked information. This picture is then verified by the vision software.
This laser marking system including laser mark of text, graphics and a "Grade A" 2D barcode with full verification of the applied marks.
Available Options
Single laser marking station
2-position indexing table for higher throughput
Vision inspection, measurement and verification
Custom tooling for multiple part variants
Automated X,Y,Z and Rotary axis of travel
Custom software solutions
Automatic part handling for load / unload
Robotic handling of part for marking of complex parts
Dust / Fume extraction
To view a printer friendly format please click below
Laser Marking and Verification System