TQC have developed a series of standard leak test benches. The Series 40 bench is a low cost, standard leak testing bench with integral plc control, capable of housing any Leak Test Instrument.
The Series 40 standard leak test benches can combine automatic assembly with leak testing operations. This allows for compact, space and time efficient solutions to be provided for higher throughput production.
Typical applications when combining operations into a single machine include –
A series of different leak tests carried out on different cavities at varying test pressure and leak limits
A press process or ball insertion followed by a leak testing and marking of the tested part
A screwing or glueing operation following by leak testing
The Series 40 Standard Leak Test Unit Incorporate:
Standard aluminium extrusion bench or fabricated and welding box section frame
Universal fixture area with option front load/unload position and shuttle to test area
Light guard, sliding or self guarding
Fully automatic sealing fixture
PLC control system
Adjustable feet and Forklift Truck access or castors for more flexible location
Built in Leak Test Instrument
Standard operator interface panel
Suitable for medium to high volume applications
Variants of the Series 40 Leak Test System include:
Twin Station – To increase throughput, a twin station machine is available allowing a single operator to work alternately between the two fixtures, or two operators working independently on each fixture.
Interchangeable Fixturing – To allow multiple parts to be tested in a single leak test machine interchangeable fixtures are supplied each complete with fully automatic sealing mechanisms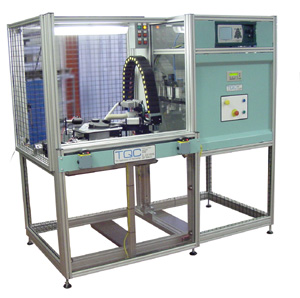 The Series 40 leak test solutions can be configured for either over-pressure, vacuum or dosing applications.