Robotic Laser Weld Fabrication system
Client: Global Engineering Company
Part: Engineering Metal Seal Ring
Machine supplied: Robotic laser weld fabrication system
Overview: This laser weld and fabrication system was designed and manufactured in order to give the customer the ability to automatically produce parts that were previously labour intensive within their production environment. TQC developed this system alongside the client to allow them to manufacture a range of part diameters in a quality assured manner at a high throughput.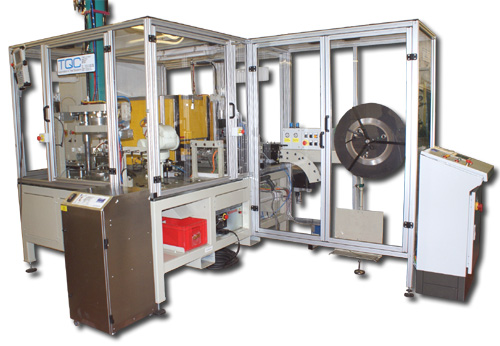 Key features:
Kawasaki 6-Axis Robot
Reel fed material
Multiple stations and sequential operations
Laser welding and vision measurement and other technology modules incorporated
PLC controlled
TQC have designed and manufactured a fully automatic manufacturing cell for the production of laser welded metal seal rings. The system incorporates multi stations that perform individual tasks to complete the manufacturing process, with a Kawasaki 6-axis robot being used to move product between the various manufacturing stations.
Reel fed material is measured out, cut to the correct length with the leading end presented for the robot to grip. The robot manipulates the strip to form the circular shape with a servo mounted gripper unit then securing the other end. The robot releases the part to allow it to be indexed into a fully guarded laser welding enclosure. The ends are welded together with vision inspection used to ensure the weld meets the required parameters.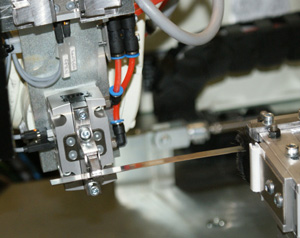 Following welding, the ring is passed through a series of polishing and forming stations to complete the finished product. The final operation is to transfer completed parts to outfeed stack magazines. The control system monitors every station with part inspection included to ensure correct part production.
Throughout the system running, the robot manipulates parts between stations with any reject parts passed to a reject bin. The system manufactures several different sizes of rings.
To view a printer friendly format please click below