Automotive Brake Leak and Flow Testing
Machine supplied: Leak and Flow Testing Bench with Twin Stations
Client: Leading Automotive Brake Parts Supplier
Part: Brake Assembly
Overview: This system was designed and manufactured to give the customer the ability to leak and flow test high-performance disc brake assemblies within their production environment. TQC developed this system alongside the client to allow them to supply quality, tested parts to their customers.
TQC have developed an innovative system for the automatic leak and flow testing of high specification brake parts. This includes other machines to test high-performance master and slave cylinder testing as well as power steering test systems.
The operator manually loads a part into the machine and connects the test line to it. Firstly, an airflow test is performed to check for blockage. If successful, the part is automatically shrouded in a close-fitting test chamber and 3 successive leak tests are performed using a differential leak test instrument as follows –
1. Intermediate pressure leak test (including piston movement check)
2. Low pressure air decay leak test – 0.5bar
3. High pressure air decay leak test – upto 160 bar
Good parts are pass stamped on completion.
Two stations allow the leak tests to be carried out on one station while the flow test is carried out on the other and vice versa.
To allow testing of different sizes and types of arts, interchangeable tooling is supplied.
Standard aluminium extrusion bench
Universal fixture areas
Light guard access to each station
Fully automatic sealing fixture
PLC control system
Built in differential leak test instrument
Standard operator interface panel
Suitable for medium to high volume applications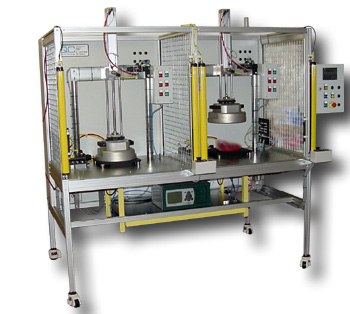 Leak Test Description

All the leak tests check for zero brake fluid leakage at various service pressure conditions.
1st leak test is performed at 2 bar
2nd leak test is performed at 0.5 bar
3rd leak test is selectable between 35 bar and 160 bar.
Nominal throughput is approximately 1 part per minute on a 2-station machine.
This bespoke test system is based around the standard series 40 equipment from.
To view a printer friendly format please click below