Leak Test Drawer Fixture
Client: Leading Plastic Moulding Company
Part: Automotive Oil Level Sensor Cable
Machine supplied: Leak test fixture
Overview: This system was designed and manufactured in order to give the customer the ability to automatically produce 100% checked parts. The leak test was to ensure no oil leakage would occur down the cable when in operation.
This leak test fixture is a standard Series 20 drawer fixture, this type of solution is suitable for automatic leak testing of small to medium-sized parts.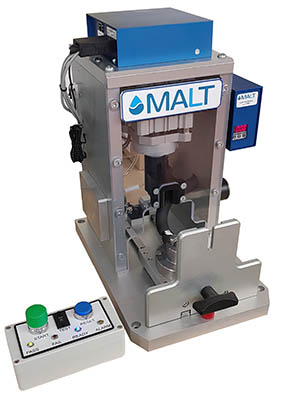 An OEM MALT LT201 valve module and controller are used as the leak testing instrument, with the valve module mounted close to the fixture tooling to keep the test volume as small as possible. A button box is included for operator controls, this was on a flying lead to be positioned either to the right or left of the drawer for right or lefthanded operators.
The series 20 drawer fixture is a standard TQC design with bottom tooling in the drawer fixture and top seal tooling positioned on a compact cylinder behind the Perspex guard. The leak test tooling is interchangeable and so makes the leak testing solution futureproof. TQC design and manufacture custom tooling for the specific part that is leak tested.
This system allows the operator to load the tooling nest located in drawer, the drawer is pushed forwards to the closed position to allow automatic leak testing. There are switches and interlocks in the drawer fixture that are connected directly into the available inputs and outputs (I/O) in the MALT controller. The leak test can either be initiated by closing the drawer or by pressing the green start button. The leak test is performed by sealing the part and monitoring the pressure changes. At the end of the test a pass is indicated to the operator so the drawer can be opened for unloading, the MALT controller is configured to lock the drawer on a Fail result. A feature that can be added is required is the integration of a pass stamp, or output to a label printer on a pass result.
Key features:
Benchtop leak test fixture
MALT leak test unit with button box
Drawer fixture with load/unload position and test position
Custom designed polyurethane seals
Automatic drawer locked closed on part fail
TQC has in the past also integrated a 20 bar high pressure test into similar systems.  The MALT has a 3 bar maximum test pressure but by careful arrangement of the test volume a pressure rise technique from vacuum can be used whilst still pressurising the part to high pressure.
To view a printer friendly format please click below
If you have an application that could benefit from TQC's expertise in leak testing, please contact us on by email or phone via the contact details